A great page to admire all my Students' Achievements
WhatsApp me now to know which Golf Lessons Package most suit you, your friends, your colleagues and your families.
↑ Text message between Coach Jun and Korean Student.
↑ Text message between Coach Jun and student who finds the Video Analysis Feedback helpful.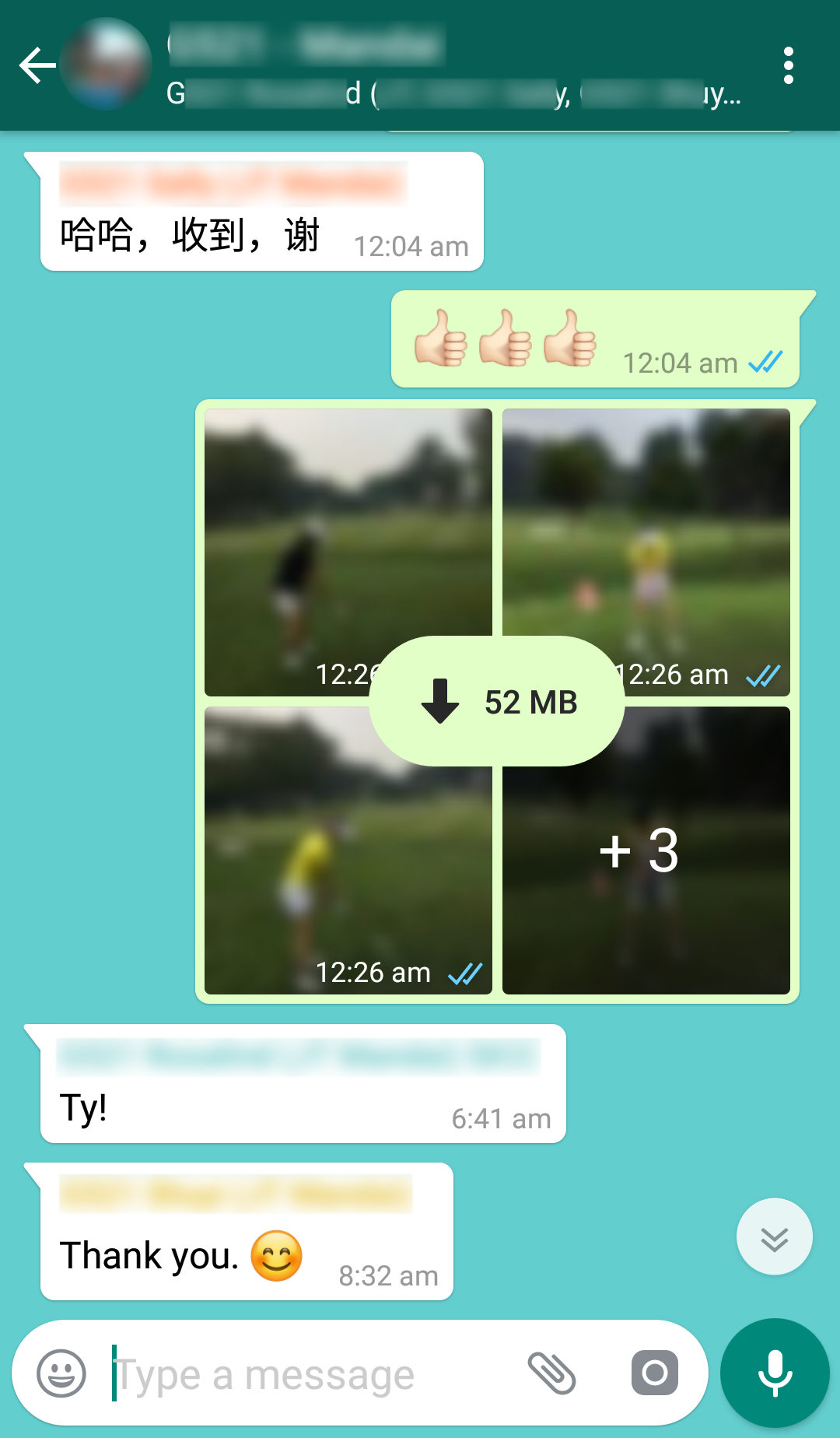 ↑ Text message between Coach Jun and Intermediate Group Ladies who is satisfied with Video Analysis Feedback.
↑ Text message between Coach Jun and Beginner Group who is satisfied with golf lessons and services.
↑ Text message between Coach Jun and Intermediate Golfer who is getting good result and wants to sign up more golf lessons.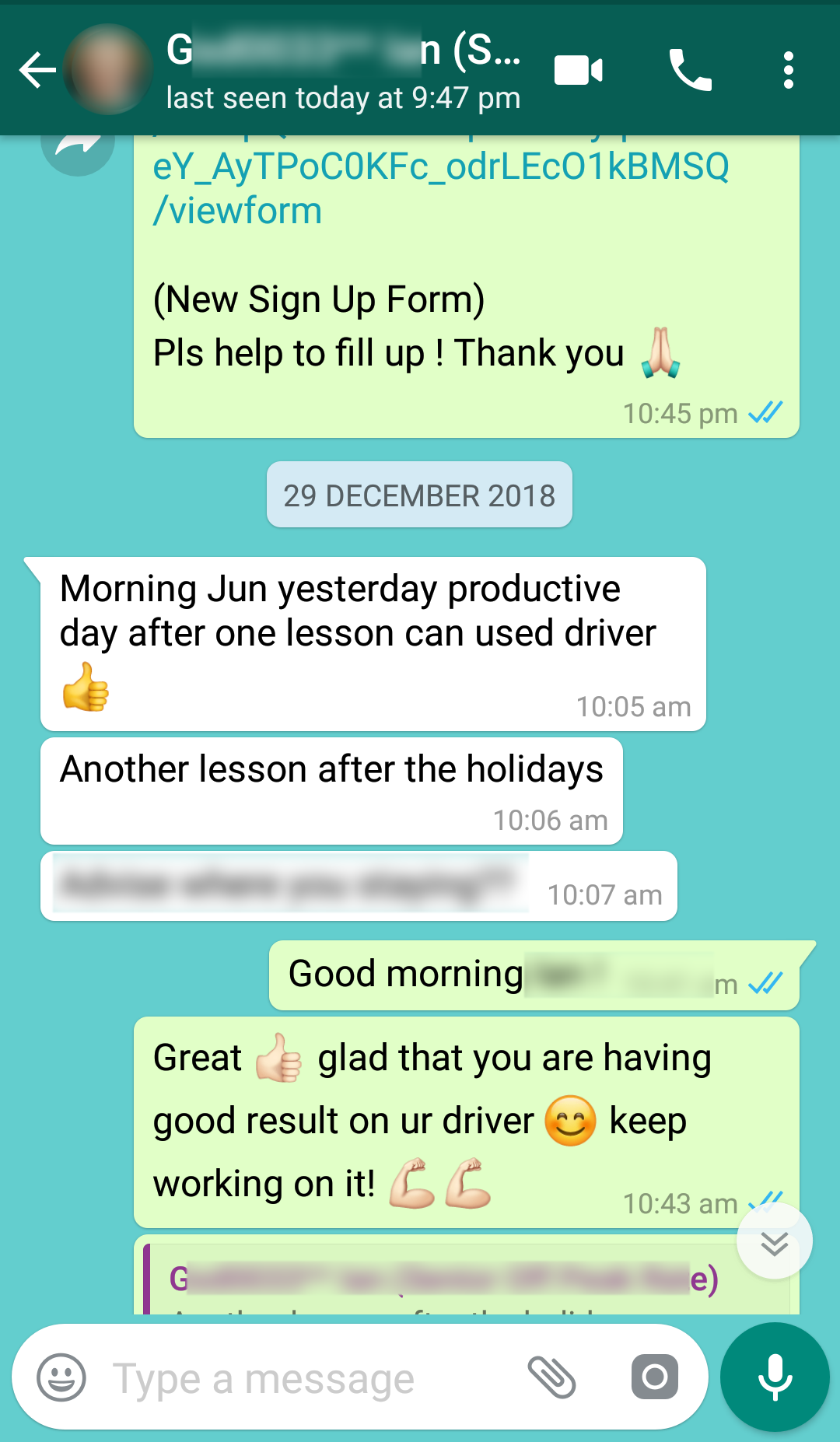 ↑ Text message between Coach Jun and Senior Avid Golfer who wants to learn the Driver.
↑ Happy Handicap Player who managed win the game at SICC Sime Course after having golf lessons with Coach Jun.
↑ Player who won the Medal in the Men's B Division after having golf lessons with Coach Jun. Shot his record best score, 86.
↑ Korean Beginner Lady who enjoyed her Golf Lessons with Coach Jun. Coach Jun coaches all level of players.
↑ Effective 1 Hour Refresher Golf Lesson so as to play in the upcoming company event. Coach Jun has effective coaching skills.
Chan
"I have tried many golf coach. After attending Coach Jun's lessons, I can say that it is the best Golf Lessons I had ever signed up for. He is detailed yet able to provide simple drills and instructions to improve my Golf Game. I enjoyed taking lessons with him."
Ronald
"I always look forward in attending Coach Jun's class. He has a plan and structure for every lessons and I managed to pick up golf in a short period. My friends are amazed by my fast improvements. I would recommend him to beginners or golfers who are struggling to improve their game."
Jimmy's parents
"Coach Jun is patient and passionate to teach. My kids find Golf interesting and enjoyed Golf Lessons with him."
Mr Lim and wife
"Coach Jun's lessons are affordable, flexible and we are able to select our preferred timing. Even with our busy work schedule and kids, we have never missed a lesson with him. He always send reminders for Golf Lessons and make sure we are comfortable with it."
Michelle and Friends
"My friend recommended Coach Jun because he is patient and make sure we grasp the concepts before moving to the next one. He has great knowledge in the golf swing and able to answer our questions. After 5 months of Golf Lesson with Coach Jun, we are confident to swing and enjoy the golf game."
John
"I found Coach Jun by a web search and initially decided to attend a 1 hour session to test out his coaching. I have been playing for over 5 years and always been playing 110+. After 4 months of private lessons, I played my best score 95 and broke 100 every round! I would recommend Coach Jun to anyone who wants to improve Golf."